Kazari will give you additional tasks after you're done purifying Konda Village and the Abandoned Shrine. One of these locations happens to be near Kamisato Estate. Specifically, it's the tidal flats to the north of Ayaka's residence. Here's our Genshin Impact guide to help you with the Sacred Sakura Cleansing Ritual in Kamisato Estate.
Note: For more information about the game, check out our Genshin Impact guides and features hub.
Genshin Impact Kamisato Estate Sacred Sakura Cleansing Ritual guide
To start with this one, simply go to the bluff that's near the coastline. Here, you'll find an Electroculi and a Sakura Bloom node.
More importantly, there are a couple of kitsune statues. Use the Memento Lens on the Earth Kitsune to reveal a clue. You can hit the other fox statue with an Electro attack to obtain the Key-Shaped Ward.
Next, go to the nearby Waverider waypoint and spawn your ship. Sail to the tidal flats (seen in the map inset below). There's another Earth Kitsune here that you can use the Memento Lens on.
Doing this opens up the passageway, and you'll likely end up collecting another Electroculi while you're falling down. Oh, and don't forget to pick up the Onikabuto that you see.
Just watch out though because it can be a little dangerous here. That's because of the Balethunder effect in the area. Basically, you'll lose health while you're here, so you need to interact with the Thunder Bough plant from time to time to gain the Electrograna buff.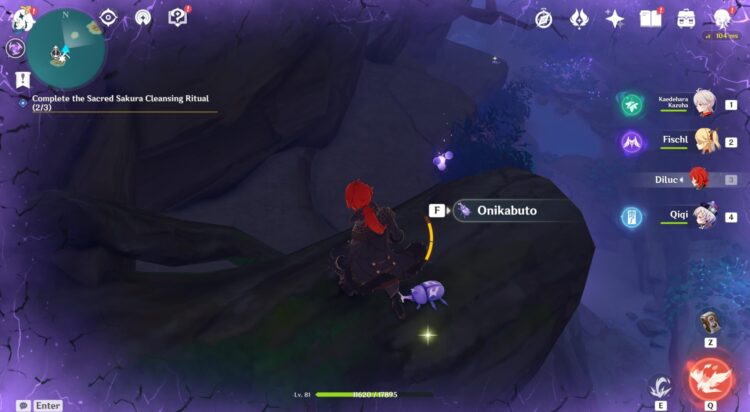 Anyway, the cavern will open up to reveal the corrupted shrine. If we look at the pattern, we'll need to do the following:
Middle/Pray – 1 Bottom left and top right – 2 Top left and bottom right – 3
Activate the switch to spawn two deadly Ochimusha samurai enemies. Eliminate them to clear this objective.
Before you head out, don't forget to take a look at the passage on the opposite side of the entranceway. You'll find a Seelie here that will continue floating above. It will lead you to a small island that's protected by a barrier. However, since you're inside, you can pick up the Seelie treasure chest and Electroculi here.
So, what do we need to do next? Well, remember that we can still complete the Sacred Sakura Cleansing Rituals in Chinju Forest and Araumi (which unlocks an underwater teleporter/domain). When you're finished with all of these, though, it's time to do the Yougou Cleansing finale.
o
---
Genshin Impact is available via its official website. For more information, check out our guides and features hub.